2023 Virtual Conference Recording Bundle RESERVATION
The digital package will include all 2023 Virtual Conference recordings!
---
Saturday, October 28, 2023
at
12:00 PM (EDT)
to Sunday, December 31, 2023 at 11:59 PM (EST)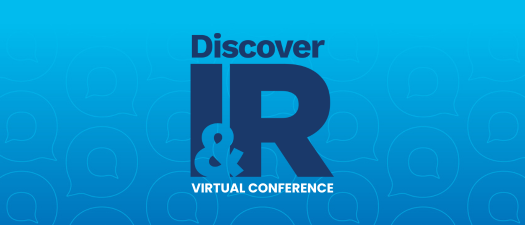 Unable to attend the Virtual Conference? We have you covered with our Digital Package! The Digital Package includes all session recordings and will be available in January 2024.
Digital Package Investment
Members $74.99
Non-Members $99.99
The 2023 Discover I&R Conference is the premier virtual event for those working on the front lines of community and resource navigation. This 2-day virtual event will provide insight and education on trending topics and select recordings from the AIRS 2023 In-Person Discovery Conference. Get ready to network with peers and discover the best practices of information and referral.
Featured Sessions
Keynote: What's in a Word? The Critical Nature of

DEI Language
Communities' diversity, equity, and inclusion efforts often focus on how employees and volunteers are treated within those agencies, how funding decisions are made, and efforts in speaking to consumers. These efforts should also focus on the resource databases and the language contained within them. As one of the most important features of a resource database, resource database curators should carefully select language that reflects the diversity of those who view the database online and the specialists using it to retrieve assistance for individuals in need.
Spotlight Session: Advancing Your Mission Through Storytelling
Jess Ronne | Founder and CEO of The Lucas Project & Best-Selling Author
Whether for grants, donors, or to position your organization as a resource in your community, the ability to weave a story is priceless. Best-selling author and disability advocate Jess Ronne will share how she grew her mission's following by thousands through storytelling. She'll also share her personal story to encourage the audience that even the most trying times can be leveraged for good.


Adding Empathy and Compassion into Your Toolkit
Build your connection toolkit with empathy and compassion. Both are essential for quality information and referral contacts and are required by the Inform USA Standards. You'll learn what these concepts are ... and what they are not. Walk away with hands-on tools to help you increase your skills for your next contact.


Sherrard Crespo, LCSW | VIA LINK
Experiencing daily stress can affect our brains and can lead to burnout/vicarious trauma/compassion fatigue. Learn how intentional self-care can un-do these stress effects and instill resiliency in our brains. You will receive practical solutions for self-care and how they will build strength and resiliency in your mind and body.


Veterans Justice Outreach and Reentry Programs: How the VA Helps Justice-Involved Veterans
Matt Miller | St. Louis Health Care System
Veterans with police involvement, criminal charges, or incarceration often struggle to navigate traditional justice systems and obtain positive outcomes. The Veterans Administration has two programs that partner with justice systems to improve outcomes for those veterans and their communities. This workshop describes those programs' missions, methods, and partnerships. Learn how and when these programs can help and how to refer veterans to them in their communities.


Taxonomy and the I&R Data Ecosystem
Theresa Paltzat | Canadian Mental Health Association
How do you envision your information and referral database? Do you picture it as a directory with the key information for the thousands of calls your team answers yearly? Or do you see your database as one piece in a complex data ecosystem? Review recent projects that aligned taxonomy use across three database teams, including one team from the healthcare system. This session will combine examples of call referrals, website searches, and ongoing data reports and discuss how these components are connected and how I&R agencies can leverage this connection to improve the full data ecosystem.


For More Information: