AIRS is now Inform USA! Check out all the details.
With great excitement, we announce the new name and brand of the organization formerly AIRS.
The name Inform USA was selected as it signifies our partnership with our partners to the north at Inform Canada and clearly states what we do in the U.S. The chat bubbles comprising the Inform USA icon (see the "o" in the name) visually represent the exchange of information our members provide on the front lines and the forefront of sector issues.
A Video Overview (25 min)
This video covers the major changes, including some "how to's" for the new website, Networker, and Certification.
What all is changing?
After 50 years, this organization carries a significant legacy, and we want to honor and preserve what matters most. The changes being made are centered around technology, access, and modernization. The organization's focus, purpose, and mission will remain the same. Read below to learn how the changes will impact your membership:
Welcome to our new website!
We have a brand new look and updated technology to better serve all our members. We hope that you'll enjoy it as much as we do.
To get the most out of your member experience, you will need to create a new login. Your previous username and password will not work on the new website. Please follow the steps below to get logged in.
With your new login, you will be able to:
Register for events
Update your profile information
Track event attendance
View/Pay invoices
...and more!
---
To create your new login, follow the instructions below.
Enter your email and follow the prompts.

If the email entered is connected to your profile, you'll be prompted to set your new password.
If we do not have the email on file in our new system, you'll be prompted to create a new account.
Once you've logged in, you'll be taken to your Member Compass - our new portal to update your profile, see events you are registered for, pay invoices, and more. Be sure to update your profile!
If your company is ready to become a member:
Welcome! We are thrilled to have you as a new member. To get started, follow the instructions below.
Click here and follow the instructions for your appropriate member type. This will prompt you to create your login and complete the membership application.
A New Networking Experience Awaits You!
The new Networker works very similarly to the former platform, however, it has some added features that will make managing access and updates easier:
Single Sign On (SSO) will allow you to sign in seamlessly to the Networker once logged in on InformUSA.org.
The new Networker syncs with your membership profile on the InformUSA.org website. When you make changes to your profile information, it will automatically update.
Adjust your profile settings to receive notification of new posts, and enjoy replying to posts directly from your e-mail inbox. Note: You cannot reply to the daily or weekly summary emails.
Download the Mobilize App to manage your networking on the go via a mobile device.
See upcoming events and RSVP links through the Networker!
Access the Networker using these steps:
Go to networker.informusa.org or use one of the links on the homepage or navigation at InformUSA.org.
When you reach the login screen, click the button in the upper right that says "Login"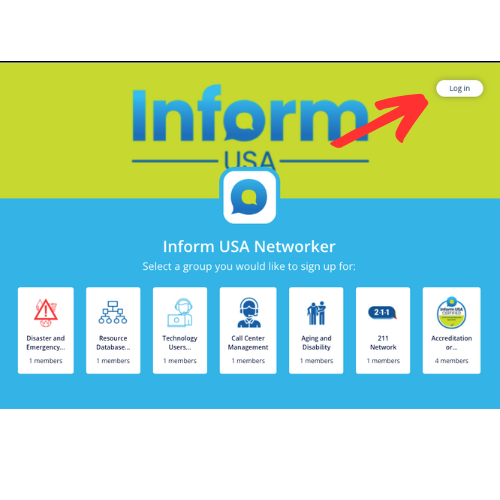 Next, click the button that says "Use Inform USA Membership Login"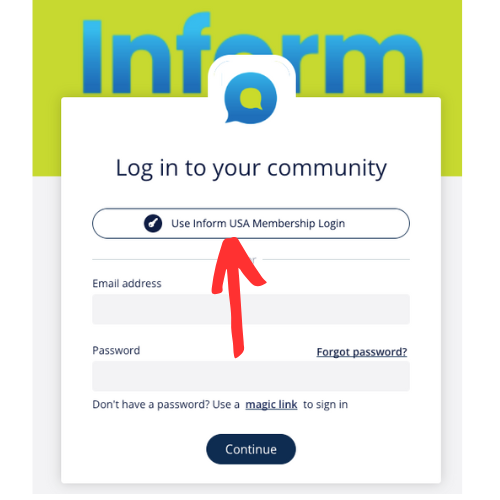 Enter your username and password to access your Inform USA membership. Note: The Networker will need to confirm your address via e-mail, but once that step is completed, you'll be able o access the Networker without logging in.
What is the Member Compass?
The Member Compass is where you can manage your personal and. organizational membership profiles. You can access the Member Compass by going to Membership-->Member Compass in the top toolbar. Use the menu items on the left to manage elements such as:
Renew membership or pay balance
See events you've registered for
Update your contact information, profile photo, and other personal information
Update your Organization's information (See Organization Tab)
Add/Remove People from your organization (See People Tab)
A Stronger Partnership with Inform Canada
The decision to rebrand AiRS as Inform Canada was a strategic effort to align our brand and operations more closely with our partners to the north at Inform Canada.
Check out the Inform USA Networker
---
We hope you enjoy all that your new website has to offer!
If you have any questions or concerns, please contact the office.